A receiver that makes you want to drive more
The Kenwood Excelon DDX9907XR DVD receiver epitomizes what the "Excelon" series is all about. In addition to its superior build quality and sweet audiophile sound package, this receiver offers the ability to connect four cameras, which can help integrate factory and aftermarket cameras. Wireless Apple CarPlay® and Android Auto™ provide familiar smartphone interfaces on the large 6.75″ high-definition touchscreen display, which can be customized to your preferences. Versatile Bluetooth®, a built-in HD Radio® tuner, and high-res music capability help make for an infotainment system anyone would love to have at the helm of their vehicle. And, Kenwood backs up this receiver with a 2-year warranty.
An HD display to run the show
This Kenwood's big screen plays video content in bright, clear detail when you're parked. When you're on the road, you can entertain your passengers by sending a movie from the receiver to a rear-seat screen. You can use three dedicated camera inputs for backup cameras, front-dash cameras, and even side-view cameras in select vehicles. The DDX9907XR also includes a direct connection for Kenwood's DRV-N520 Drive Recorder HD dash cam, which means you get camera control and alerts directly on the receiver's display. Kenwood also provides an electronic angle adjustment for the display, so you can tailor the screen's contrast for the best viewing in your vehicle's dash location — all without physically moving the display.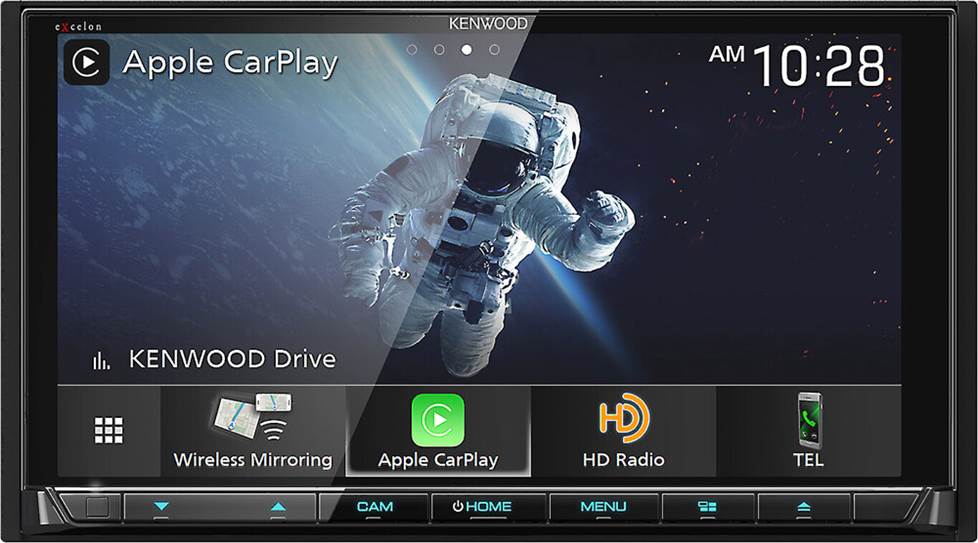 Customize the background on this receiver's vivid HD displays.
Get your phone more involved
Using this Kenwood's wireless connection, your smartphone links right up and you're ready to roll with all the voice-control wonderfulness that Android Auto and Apple CarPlay bring to driving. (Find out more at www.android.com/auto and www.apple.com/ios/carplay.) In addition, the DDX9907XR offers wireless screen mirroring for select Android phones, which lets you select apps directly from the Kenwood touchscreen. iPhone® users, you can plug into one of the USB ports and mirror your iOS display.
And when your phone needs some juice, plug it in, and you'll still get access to all your navigation, phone calls, weather, text messages, and music through simple controls and voice commands you're familiar with — all while your battery charges. If you prefer to stay wireless and you have a compatible phone, you can also charge up with a wireless Qi charger.
More wireless versatility with Bluetooth
Since yours is probably not the only phone used in your vehicle, the DDX9907XR enables you to pair two Bluetooth-equipped phones and quickly switch between them for hands-free calling. And when you're streaming audio, Kenwood's Music Mix feature lets you pair five phones so everybody can pick their tunes for the ultimate road trip playlist. Load up the Kenwood Remote S app on your phone, and passengers can control some basic functions on this receiver wirelessly. This Kenwood also includes LDAC, which means you can stream high-res sound via Bluetooth using select Android phones.
Lots of music options
Got a high-res music library? You'll be stoked that this receiver will play high-res music files stored on a USB drive. And if you listen Internet radio on your iPhone or Android, you'll really dig playing music from Pandora and Spotify on this receiver. Using Apple CarPlay or Android Auto will open up even more music apps for you, as well.
If you're looking for radio stations that won't fade away as you leave the city limits, add a SiriusXM tuner to this Kenwood to enjoy satellite radio's deep programming from coast to coast. And if you have local stations that broadcast in HD, this receiver's built-in HD Radio tuner will deliver super-clean sound and display artist, song, and station info.
Great options for system tweaking and expansion
For those who like to dial up their sound, Kenwood included a 13-band equalizer with a built-in digital signal processor. Time alignment is also on board, so you can adjust the timing of sound to your system's speakers to make sure you're center stage for all your music.
The DDX9907XR also includes three pairs of gold-plated 5-volt preamp outputs that provide an ultra-clean signal when it's time to add amplifiers to your system. If you want to amplify your woofers, midrange speakers, and tweeters separately, you can switch to a 3-way crossover system that directs lows, mids, and highs to the right amplifiers — all from this receiver's touchscreen display.
iDatalink Maestro lets you keep your factory extras
The DDX9907XR offers compatibility you won't find in many other aftermarket radios, thanks to the iDatalink Maestro module (not included). In a wide selection of vehicles, this module lets you keep factory features that you'd otherwise lose when you install a new radio. You'll also be able to check out engine performance data and other vehicle info on the Kenwood's screen, even radar info from a compatible detector. Once you've identified your vehicle, you'll see the iDatalink module offered on the way to the Shopping Cart if it's compatible.
iPod/smartphone note: If you're going to use your iPod or smartphone with this receiver, be sure to check "Details" for compatibility information.
You'll need a wired connection to your parking brake to access settings and other features on this receiver. Your parking brake must be connected and set in order to view video on its screen.
Product highlights:
General Features:
DVD/CD receiver with AM/FM tuner
6.75″ high-definition capacitive touchscreen display
Wi-Fi certified
Waze-ready with Apple CarPlay or Android Auto
customizable display background and digital angle adjustment for better in-dash visibility
plays high-res FLAC and WAV (up to 24-bit/192 kHz) files on USB drives
built-in HD Radio tuner
fits double-DIN dash openings
Bluetooth Features:
hands-free calling and audio streaming with dual phone connection
Kenwood Music Mix feature allows music streaming and control from up to five paired smartphones
built-in LDAC for high-res wireless audio streaming with select Android phones
control the stereo using Kenwood's free Remote S app
Smartphone Features:
compatible with wireless or wired Apple CarPlay or Android Auto
music control and charging of Apple and select Android devices using the USB connections
Pandora and Spotify control with iPhone and Android
wireless and wired mirroring for Android; wired for iPhone
Audio/Video Features:
plays CDs, DVDs, and USB memory devices (see Details for full capabilities)
13-band equalizer with digital time alignment
DriveEQ boosts specific frequencies to compensate for road noise
subwoofer level, phase, and low-pass crossover controls
Expandability:
compatible with SiriusXM satellite radio tuner
direct connection and control with Kenwood's DRV-N520 Drive Recorder dash cam
inputs: two rear USB inputs, rear A/V input (mini), four camera inputs (including DRV-N520 input)
outputs: rear A/V output, 6-channel preamp outputs (5-volt front, rear, subwoofer)
Other Info:
wired connection to parking brake required to access settings and other features on this receiver (the brake must be connected and set for video display)
built-in internal amp (22 watts RMS/50 peak x 4 channels)
compatible with most factory steering wheel audio controls (adapter required)
works with iDataLink Maestro module

retains factory features in a wide selection of vehicles
displays engine performance and other vehicle data on touchscreen

warranty: 2 years