Big power for your whole system
Rockford Fosgate's Punch P1000X5 amplifier can power your entire system, delivering 75 watts RMS to each of your front and rear speakers, along with up to 500 watts RMS to a subwoofer. The sub channel's low-pass and subsonic filters come in handy for getting the right sound from your sub/enclosure combo, and you can use the amp's high-pass filters to remove the bass from your full-range speakers so they'll play more efficiently. The Punch EQ2 includes bass and treble boosts, in case you want to liven up the mix.
Not worried about rear speakers? You can also switch this amp into 3-channel mode to drive a couple of high-performance components with 250 watts RMS each while still powering a sub with up to 500 watts.
Easy to set for optimum performance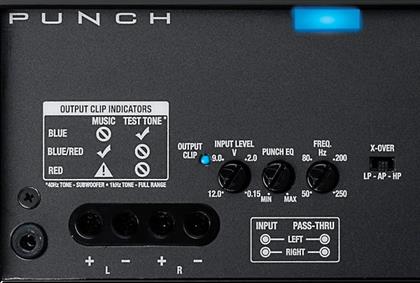 P300X2 control panel shown as example
Once again, Rockford Fosgate steps away from the crowd with their C.L.E.A.N. technology (Calibrated Level Eliminates Audible Noise) — a setup system that ensures your music will sound as clean and powerful as possible. It works like this: play the setup tone on the included test CD, adjust the receiver volume until a red clip light on the amp goes out, then turn the amp gain up until a blue light comes on. It's that simple — your amplifier is now set to match your receiver's output. When your receiver reaches maximum clean volume, you'll get maximum clean power from your Punch amp. At quiet listening levels, you'll hear less background noise and more of your music.
Keeps an eye on things while playing
If that blue light turns solid red while you're playing music, the amp's telling you that your source is distorting and you should turn it down, or risk damage to your gear. The optional PLC2 remote level control also doubles as a clip indicator, so you can see from the front seat if your music's clipping. The amp's built-in computer keeps tabs on the output current, ensuring that plunging speaker impedances (they change during play) or even a short circuit won't hurt anything.